PDF Download 2021 Perception of swimming ponds by tourists
PDF download  2021 Online water values from your natural swimming pool
PDF download abstract 2019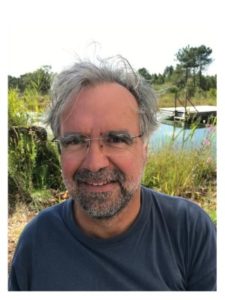 Udo Schwarzer is a biologist and CEO of Bio Piscinas Lda. based in Aljezur, Portugal (www.biopiscinas.pt). Founding partner of IOB (2009) and GIABN (2007), president of IOB from 2009 to 2017, currently in the position of secretary of GIABN.
As designers of Bio Piscinas Lda., together with his wife Claudia Schwarzer, landscape architect, he has designed and built more than 250 biological swimming pools in Portugal since 1995, among these 60 for tourist use. He is member of IUCN/SSC freshwater plants specialist group and author of several technical publications about swimming pools with biological treatment.
Online water values from your natural swimming pool – 2021
The presentation shows an example how a constant data flow of water quality values from natural swimming pools can be transmitted, stored, analyzed and interpreted.
Workshop A Discussion: (2019) what belongs to a swimming pond, what not
The working group "What belongs in a swimming pond and what not?" wants to ask and discuss border issues. There are many answers to this question. For example, many regulations define what a swimming pond is.
However, the working group wants to look at the topic differently, so it does not ask what a swimming pond is, but what belongs in there.