Dear colleagues,
Attention: early bird offer for the 11th International Swimming Pond Conference only until 01/02/2021!
Booked now on our website https://iob-ev.com.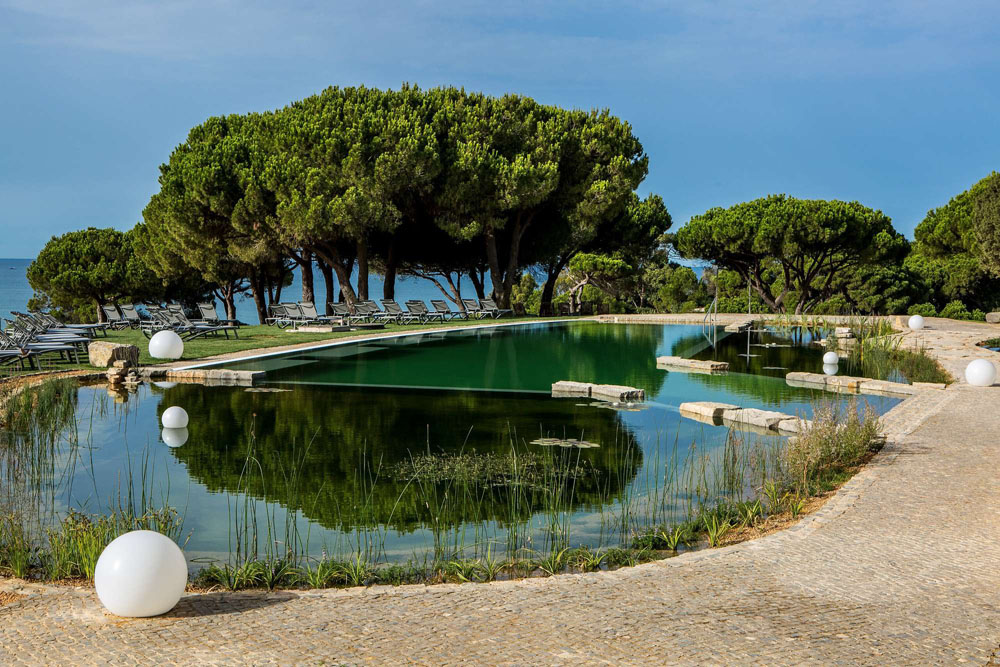 This year it will take place in Portugal on October 6th and 7th. For the first time we meet in a hotel with a natural swimming pond!
INVITATION to the SoGreen SYMPOSIUM
'EU Green Deal On the Green Move'
30.04.2021 • 13:00pm – 17:00pm Brussels time
As a reminder: SoGreen is the European umbrella organization for the green sector, in which the IOB is also represented. The initiative originates from ELCA (European Landscape Contractors Association). During their lobbying work in Brussels they realized that it is easier to be heard in the European Parliament if not only one professional group is represented. So the idea came up to bring all "green players" together under one roof: SoGreen.
This makes it easier for politicians to find the right contact person for all ecological issues. The current member organizations besides ELCA and IOB are:
EFB - European Federation of Green Roof and Living Wall Associations
EILO - European Interior Landscaping Organization
ENA - European Nurserystock Association
IFLA Europe - International Federation of Landscape Architects
WUP - World Urban Parks Europe
On April 30th (1:00 pm - 5:00 pm CET) SoGreen is holding the first symposium with a brief presentation of an exemplary company from each partner association.

Representing the IOB, this time Franz Kubacek from VÖSN will present the development of his company Hydrobalance and the development of the industry.
Other Key speakers:
Stefan Leiner - Head of Unit ENV.D2 Biodiversity - European Commission - Environment Directorate-General

Chantal van Ham

- EU Programme Manager Nature Based Solutions -

IUCN (International Union for Conservation of Nature) - European Regional Office
Elena Visnar Malinovska -

Unit A.3 – Adaptation - European Commission - DG CLIMA

Sirpa Pietikäinen - Member of the European Parliament

Enclosed a letter of invitation to participate that you please disseminate as widely as possible.
Please click the program (pic) for PDF version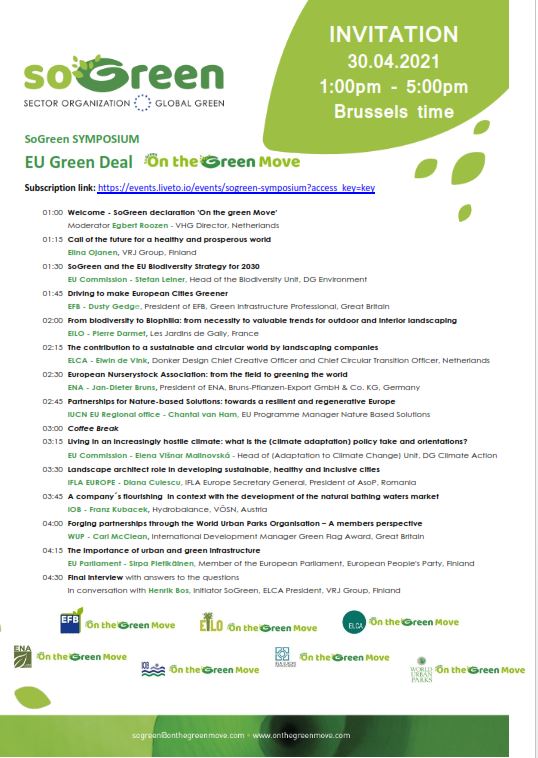 We also take part in the EU Green Week from April 1st to 4th. June with a joint appearance. So the IOB is finally there with an interest representation in Brussels.
Best regards
IOB
Stefan Meier
President